Sweating Guarded Hotplate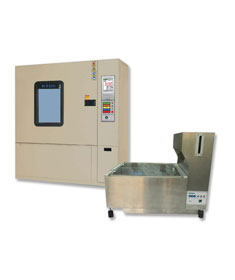 Standards:
  GB/T 11048, ISO 11092, ASTM F1868, ASTM D1518, JIS L1096
  Applications:
  The Sweating Guarded Hotplate simulates the heat and mass transfer processes which occur next to human skin. Measurement of thermal resistance and water vapor resistance under steady state conditions of a range of products of fabrics, films, coatings, foams, and leathers, including multi-layer assemblies, for use in clothing systems.
  Product Information:
  Professional Technology
  1. The world's first independent design concept, integrated design of control systems and automatic water supply system, users can choose the standard Climate Chamber.
  2. Automatic water supply, Automatic drain system, Strong feed water system (In the Evaporative Resistance test mode, water uniformly wets test plate faster).
  3. High-precision automatic platform mobile systems, enter the thickness of the test sample, the test platform to move to the corresponding position.
  4. According to the thickness of the sample, the machine automatically adjust the PID control parameters, test conditions can quickly reach.
  5. The patented Air velocity parallel stabilization system, let the Air velocity homogeneous and stable, so that the test results are more stable.
  6. Air velocity continuously adjustable from 0~2m/s to meet any Thermal and Evaporative resistance testing standards.
  7. Guard ring width 127mm, to ensure that heat is passed from the test sample.
  8. LED soft lighting system.
  9. Standard USB communication, optional wireless wifi communication, to make the connection more convenient.
  10. Machine stainless steel shell to ensure the life of the machine more than 20 years.
  11. Friendly and convenient testing software, test software to configure variety of test standard and user-friendly.
  Technical Specifications
  Thermal Resistance(RCT) range: 0.002~2.000m2·K/W
  Indication error: ≤ ±2%
  Repeatability error: ≤ ±2%
  Resolution: 0.001m2·K/W
  Evaporative Resistance(RET) range: 0-1000m2·Pa/W
  Indication error: ≤ ±2%
  Repeatability error: ≤ ±2%
  Resolution: 0.001m2·Pa/W
  Test plate temperature range: 20℃-50℃, adjustable
  Temperature control accuracy: ± 0.03℃
  Temperature measurement: ±0.01℃
  Air velocity: 0~1.2m/s, continuously adjustable
  Air velocity accuracy: ±1%
  The sample platform lift range: 0~70mm, automatic lift
  Sample thickness: 0~70mm
  Test plate area: 250mm×250mm
  Guard ring size: 512mm×512mm, Guard ring width: 127mm
  Dimensions: 770×560×750mm (L×W×H) (not including Climate Chamber)
  Weight: 30Kg (not including Climate Chamber)
  Host power: AC220V±10%, 100W or AC110V±10%, 100W